200+ Customer Reviews
Written by Sydney M.
"A gorgeous selection of notebooks, ink, and pens. Great range of prices, there are products for beginners that are reasonably priced and options for splurging. Absolutely lovely shopping experience!"
MORE REVIEWS
Written By Rachel L.
"The people were absolutely lovely. I didn't know what to ask, and they still gave me all the answers. Good quality merchandise, fair prices, and overall an amazing place to shop."
MORE REVIEWS
Written By Andrew S.
"I felt welcomed in a new environment to me, and didn't feel pressured into buying anything. I'm now a happy owner of 2 special editions of field notes and a great new pen! All at a great price. Thanks a lot!!"
MORE REVIEWS
Premium Stationery Store
Located in Toronto, Take Note is a premium stationery store where the art of writing comes to life.
We offer a selection of writing instruments and accessories, notebooks, paper products and interesting gifting items. 
Each product we carry is thoughtfully chosen for its quality, aesthetic and often uncommon yet impeccable design.
If you're interested in learning more about our premium stationery store and the writing instruments we carry, give us a call, send us a note, or DM us on Instagram @takenotestore.
We are now open for in-store shopping.
Please check our store hours below in Come On In! section.
BROWSE Products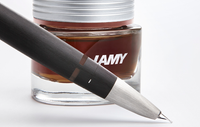 'Notes – a life story, a love story'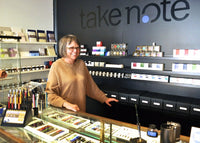 A Passion for paper and ink.
Jolanta's love of paper and ink began in her childhood in Poland.
Eventually, she journeyed to Canada with her husband and daughter, with nothing but a backpack, two-hundred dollars, and her prized Montblanc pen.
About Us
Location
Come On In!
2993 Dundas Street West
Toronto, ON M6P 1Z4
Canada
Closed Mondays
Tuesday – Saturday 11am - 6pm
Sunday 12pm - 5pm
416-766-1235